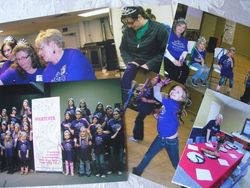 Our Dream Boldly Experience March 8 – 9, 2013 was an exciting time for all who attended. Eight churches were represented with 56 registrations and 5 visitors.
Our four centers encouraged all to "Be Bold."
"Esther's Story" was told by Debbie Little and what a story teller she is. All left with a better understanding of who Esther was and what she went through as she was bold for her people. At the end each girl received a tiara.
Next the "Feast of Purim" was celebrated. Sherry Whitlow had very interesting food items to eat. Special recipes were used to make ears, fingers, and a rope. All represent Haman and how he ended up. A unique drink was also served.
From there you went to the "Light Catcher" craft center hosted by Teresa Gates and Hannah Little. Each person made their own light catcher. We are to be reflections of God, to catch The Light and shine for Jesus.
Our last stop was to the "Be Bold" center. Piper Hall, and those in attendance, shared constructive ideas how we can Be Bold in our Christian walk. Each girl received a ribbon wand to represent the scepter King Xerxes held out to Esther.
Worship leader, Chris Korstjens, did an amazing job. It was, WOW, very energetic! The girls used their ribbon scepters in worship as Chris showed them different movements. Chris did slow it down, instructing that worship is all about God.
Guest speaker, Holly Cox, encouraged all to take down the barriers that keep us from being bold. Her personal experiences from her elementary years challenged us to live boldly. Even in the face of opposition she shared her faith and love for God. I believe she left them with a concrete example of how they can live boldly right where they are.
Watch the video posted on Facebook at IPHC Heartland Conference Girls' Ministries.