Celebration of life service for Clarence Dewitt Glaze Jr., 89 of Enid, will be 2:00 PM, Wednesday, at Enid Mennonite Brethren Church. Burial will follow in Memorial Cemetery, with arrangements by Anderson-Burris Funeral Home. Visitation with family will be Tuesday from 6:00 PM to 7:00 PM at the funeral home.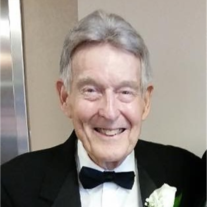 Rev. Clarence Glaze transferred from the Assemblies of God to the International Pentecostal Holiness Church in 1989. He was a gifted and faithful leader, pastoring the Enid First Love Church for many years. Rev. Glaze carried a vision and burden for all of Enid to come to Christ until the day he departed this life.
We pray his precious family at this time of sorrow. We also rejoice that our dear brother Clarence has entered the eternal presence of Jesus Christ!