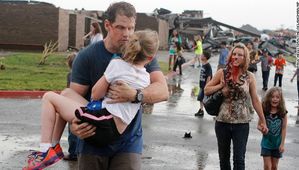 Teachers take children to safety after a tornado destroyed Briarwood Elementary School in Oklahoma City on Monday.I'm writing to bring you up to speed on our Heartland response to the tornadoes here in Oklahoma City and the devastation left behind.
One family in our conference has lost a nine-year-old son. We have one child in our conference family that remains unaccounted for. Please continue to pray for these families.
We have families in our churches whose homes are a total loss and some that are partial loss.
None of our Heartland churches are damaged.