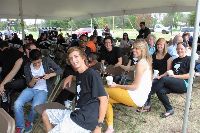 Passion Church of Bethany celebrated its 5th anniversary Sunday, August 26th. Rev. Steve Ely serves as pastor of this growing congregation that is reaching mostly young people and young adults. Attendance climbed into the 260s.
The occasion was marked by one worship service followed by a barbecue brisket dinner under the big tent.
Pastor Steve believes strongly in the importance of well-planned special days to keep momentum alive and the church growing.