Caroline Callahan Canteen Dedicated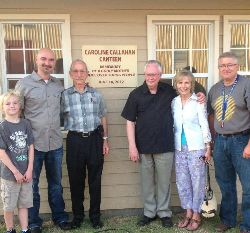 The camping season this year began with the dedication of a newly constructed canteen, in memory of Caroline Callahan, who went to be with the Lord six years ago. She was a Godly mother who loved young people. Her husband, Wayne, son, David, and grandson, Channing (three generations) were present for the occasion. Dan Manning, a multi-gifted Heartland pastor, did the construction.
he Heartland now has a nice canteen to complement the goal to reach children's hearts for God. "Thank you, Wayne, and your family for helping make this new facility possible."
Stuart Sherrill and Woody Burpo have also installed a new sand volleyball court for our children to have fun while they work off their energy. Your camping facilities here at the Retreat Center now include a commercial swimming pool, an outdoor basketball court and disc golf, as well as the volleyball court. And it all is debt free!
Created on .
Last updated on .
Hits: 2724