Fall Camp Meeting 2017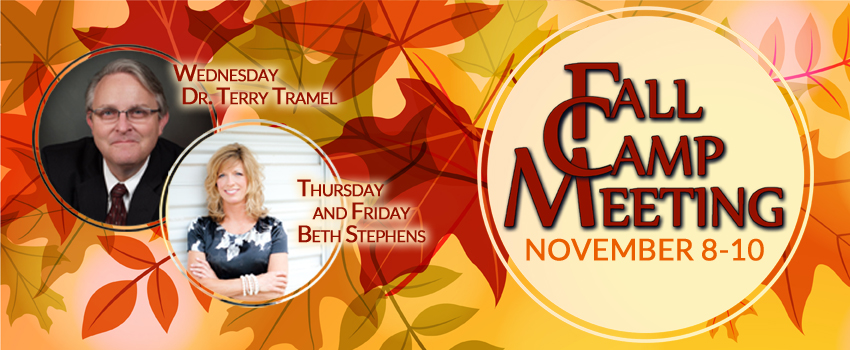 Fall Camp Meeting is a perennial favorite event in the Heartland. You will enjoy classic camp meeting worship, fiery preaching, practical morning sessions, great food (complimentary breakfast and lunch), and connecting with friends old and new.
It all starts on Wednesday evening, November 8. There will be morning sessions as well as the evening services on Friday and Saturday. Come enjoy a mighty move of God!
Overview

At this year's Camp Meeting, you will be stirred by the preaching and teaching of several great ministers — some are returning and others coming for the first time! Terry Tramel will be our kick-off speaker. He never fails to make the Word of God come alive. On Thursday morning Dr. Aldon Preston and Bob Ely will bring practical words to help equip God's servants more fully. On Thursday and Friday evening, Beth Stephens brings her powerful ministry to the Heartland for the first time. Ron McKey, pastor of Cornerstone Church in Midwest City, rounds out our speakers by bringing two impactful sessions on Friday morning.

Kelly Martin will return to lead us in worship in that old-time gospel style. Each evening we will be blessed by special music as well: Dewayne Klepper and the Friendship Quartet on Wednesday, a special Andrae Crouch tribute led by Sherman Andrus and Julie Ely on Thursday, and Kelly Martin singing on Friday.

Fellowship is a huge part of the Camp Meeting experience. There will be lots of time to visit during the complimentary breakfast and lunch on Thursday and Friday, free time in the afternoons, and a snack bar after each service.

Of course, one of the things that makes our events so special is the early morning prayer sessions led by John and Anne Youell. Plan to come early and stay late so you don't miss a single blessing!

Schedule

Wednesday, November 8

7:00 pm

Evening Service

Worship: Kelly Martin
Special Music: Dewayne Klepper and the Friendship Quartet
Speaker: Dr. Terry Tramel

Snack Bar and Fellowship

Thursday, November 9

7:30 am
Prayer
8:30 am
Breakfast
9:30 am

Morning Session

Praise and Worship: SCU One Voice
Dr. Aldon Preston
Break
Bob Ely

12:30 pm
Christmas for Missionaries Luncheon (all invited)
7:00 pm

Evening Service

Worship: Kelly Martin
Special Music: Andrae Crouch Tribute (Sherman Andrus/Julie Ely)
Speaker: Beth Stephens

Snack Bar and Fellowship

Friday, November 10

7:30 am
Prayer
8:30 am
Breakfast
9:30 am

Morning Session

Praise and Worship: SCU One Voice
Ron McKey
Break
Ron McKey

12:30 pm

Lunch served for all attending

Deborah's Daughters Luncheon (Invitation only for Heartland Women Licensed and Ordained Ministers)

7:00 pm

Evening Service

Worship: Kelly Martin
Special Music: Kelly Martin
Speaker: Beth Stephens

Snack Bar and Fellowship

Speakers

Evening Speakers

Dr. Terry Tramel

Dr. Terry Tramel is an ordained minister in the International Pentecostal Holiness Church. He is in his 40th year of ministry. He has spoken extensively in local church revivals, Bible Conferences, and camp meetings across America and in several other nations. For the past 15 years, he has taught as professor of Bible and Theology at Southwestern Christian University in Bethany, Oklahoma. Since the beginning of 2017 he now serves as the Director of Global Outreach and Leadership Development for the World Missions Ministries of the International Pentecostal Holiness Church.

He holds a B.S. degree in Pastoral Ministry from Mid America Christian University in Oklahoma City, a M.A. degree in Theology from Southern Nazarene University in Bethany, Oklahoma, and a D.Min. degree in Pentecostal Leadership from the Assemblies of God Theological Seminary in Springfield, Missouri. He is the author of "The Beauty of the Balance: Toward an Evangelical-Pentecostal Theology."

Dr. Tramel and his wife, Rebecca, live in Norman, Oklahoma. They have two adult children, a daughter, Tara (Light), and a son, Clayton.

---

Beth Stephens

Beth was born and raised with roots running deep in Pentecost. Both grandfathers and one grandmother preached the gospel, blazing the trail for their families. Beth accepted the call to preach at the age of 20 and within weeks, preached her first sermon. She has now shared the gospel for over 25 years all over the United States and abroad.

Beth has always strived to follow and accept the Lord's direction in her life, so she was delighted that He put a very special man in her life. On June 29, 2013, she became the wife of Curt Johnson. They are very excited about the plans God has for them as they work together in His Kingdom! Since the beginning of their marriage and their work together for God, God has been stirring their hearts to simply preach the Gospel and pray for healing for the sick. Whenever He sent His disciples out, "He sent them to preach the Kingdom of God, and to heal the sick" Luke 9:1. Already, signs and wonders are confirming the Word of the Lord! As she and Curt go forward, there is great anticipation and expectation for what God is going to do in this new season!

---

Morning Speakers

Dr. Aldon Preston

Pastor
Starlight Ministries

Bob Ely

Evangelist

Ron McKey

Pastor
Cornerstone Church
Created on .
Last updated on .
Hits: 2668