Fall Camp Meeting 2019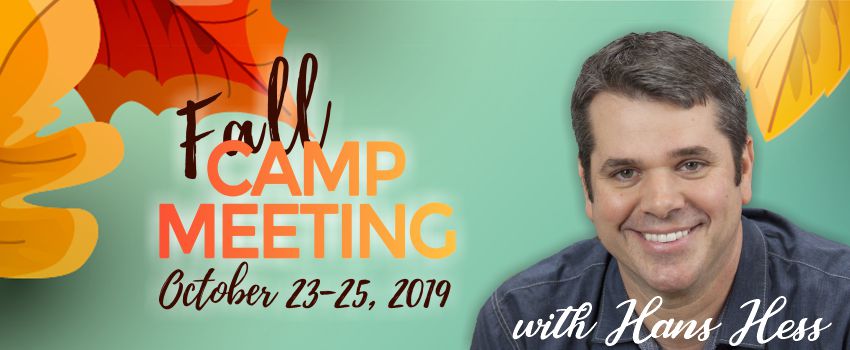 Revival messages, great hymns, fellowship, great teaching, prayer and much more!
All ministers, members and friends of the Heartland Conference, you are invited to an powerful time in God's presence. If you want Holy Spirit revival in your life, family and congregation, this is the meeting for you!
Schedule

Wednesday, October 23

7:00 pm
Worship|

Dale Ozment


Special Music|Daisy McGrew
Speaker|Hans Hess
Fellowship
Snack Bar open following evening service

Thursday, October 24

7:30 am
Morning Prayer
8:30 am
Breakfast (free to all attendees)
9:30 am
Morning Worship|Madeline Raglin
9:50 am
Session 1|Hans Hess
11:20 am
Session 2|Jamie Scammahorn — Mentally Healthy Leaders
12:30 pm
Lunch (free to all attendees)
Minister's Wives Fellowship/Lady Ministers (Jamie Scammahorn Speaking)
7:00 pm
Worship|

Dale Ozment


Special Music|Dale Ozment
Speaker|Hans Hess
Fellowship
Snack Bar open following evening service

Friday, October 25

7:30 am
Morning Prayer
8:30 am
Breakfast (free to all attendees)
9:30 am
Morning Worship|Madeline Raglin
9:50 am
Session 1|Lynn Ice and J

immy Bennett

— A Look at a Successful Church Merger
11:20 am
Session 2|Marty Alvarado — Addressing Abuse in the Church
12:30 pm
Lunch (free to all attendees)
Christmas for Missionaries
7:00 pm
Singspiration with Richard Goad
Fellowship
Fellowship is at the restaurant of your choice following evening service (Snack Bar is not open)

Speakers

Hans Hess

Hans Hess has pastored a growing church in North Carolina called Fountain of Life since 2009. Prior to this, he traveled extensively as an evangelist, served as Missions Director for Redemption Ministries, and planted a church in Sterling, Virginia. Hans holds a BA in ancient history from University of Kentucky, an MDiv in practical theology from Regent University, and is a PhD candidate at Regent University. As leader of FOL, his vision is to see souls saved, evangelize the community, disciple new believers, and participate in revival. His unique preaching style, revealing Pentecostal roots supported by a scholarly education, makes him a relevant voice to various audiences.

Jamie Scammahorn

Jamie Scammahorn is a lifelong teacher and mentor. After spending nearly 20 years in the educational system as a teacher and counselor, she felt a desire to be able to help people in an even deeper and more meaningful way. Seeing the devastating effects of brokenness firsthand in the lives of students throughout the years, she felt compelled to return to school and complete her Masters in Counseling. She started a mental health practice in her hometown often serving former students and their families. She has since relocated her counseling practice to Oklahoma City and expanded to include specialties such as crisis management, trauma and trauma related disorders, researched based couples therapy, and mental disorders. As a mental health practitioner, with a Christian worldview, Jamie has seen the growing need for mental health training and awareness in the church body. Her heart is to empower the church to meet the mental and emotional needs of its members and leadership by casting off the shame that has been attached to mental illness and opening a dialogue about mental health awareness.

Lynn Ice

Jimmy Bennett

Marty Alvarado
Created on .
Last updated on .
Hits: 666