Charles Michael Ewing Homegoing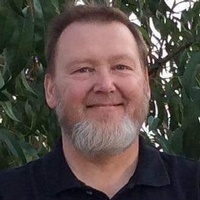 Rev. Charles "Chuck" Ewing entered his eternal reward on Saturday, July 14, at the age of 53. He was a wonderful part of the Heartland Conference. A soft-spoken man, Chuck was one of the most likable and down-to-earth people you could ever meet.
Chuck was a bi-vocational minister; in addition to his ministerial service, he worked two and three jobs, often in great pain because of chronic heart problems. He pastored two of our churches: Mountain View PH and most recently, Family Church of Blanchard (now Acts of Grace). He also was a tremendous volunteer in our camping program and maintenance of our Retreat Center.
Chuck was a great teacher and modeled the servant life of Jesus Christ. As a loyal friend he touched hundreds of lives during his journey on earth!
We celebrate Chuck entering his eternal reward and being free from pain. We also lift up his wife Amy and their children and grandchildren.
Obituary
Charles Michael Ewing, 53, of Pocola, Oklahoma passed away Saturday, July 14, 2018 in Fort Smith, Arkansas. He was born May 17, 1965 in Broken Arrow, Oklahoma. He was a US Air Force Veteran, an ordained Pentecostal minister through the Heartland Conference of the IPHC, and a member of Grace Fellowship Church.
He is survived by his wife Amy Ewing of the home, three sons; David Ewing of Fort Smith, John Michael Ewing of Fort Smith, Jeremiah Ewing of Pocola, OK, one daughter Melinda "Mindy" Seal of Winslow, his mother Ethel Ewing of Fort Smith, five siblings Teri Ewing of Fort Smith, Joie Fields of Arkoma, OK, Gayle McKeown of Springfield, MO, Glenda Meredith of Lavaca, and Barbara Serrell of Jacksonville, AR, and one grandson Charles Alan Ewing.
Visitation and Services
Funeral Service will be 9:30 am Wednesday at Lewis-Roberts Funeral Chapel 4817 Kelley Hwy Fort Smith, Arkansas with Interment to follow with military honors at the Fort Smith National Cemetery. Visitation will be Tuesday from 5:30-7:00 pm at Lewis-Roberts Funeral Chapel, Fort Smith. Pallbearers will be Robby Meredith, Chris Meredith, Chad McKeown, Josh McKeown, Benjamin Blalock, and Aaron Blalock. To place an online tribute, go to www.lewisfuneralchapel.net.