Richard Nelson Celebration of Life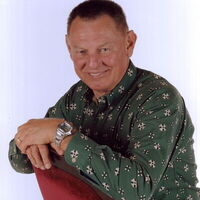 Rev. Richard Nelson left this world for his heavenly home on January 9, 2021. His passion for our Lord Jesus Christ and infectious laughter will be deeply missed.
Brother Richard served many churches during his ministry with his wife Marie. Even after their active ministry they continued to inspire and encourage other pastors. In addition to his family, Richard leaves behind many friends in the Heartland Conference.
Funeral: Friday, January 29, 2021, 10:00 a.m. at Bethel Assembly of God in Lawton, Oklahoma
Well done, good and faithful servant!
Obituary
December 27, 1935 - January 09, 2021
Funeral service for Rev. Richard H. Nelson will be 10:00 a.m. Friday, January 29, 2021 at Bethel Assembly of God with Rev. Randy Shorter, Pastor officiating.
Burial will follow in Sunset Memorial Gardens under direction of Becker-Rabon Funeral Home.
Rev. Richard H. Nelson died Saturday, January 9, 2021 in Lawton, Oklahoma at the age of 85. He was born December 27, 1935 in Miami, Florida to Harvey D. Douglas and Thelma M. Nelson. He married Teresa Marie Mingo on May 4, 1957 at Evangel Temple in Miami, Florida. She preceded him in death on September 10, 2019.
Richard worked as a cabinet and boat builder before surrendering to ministry at the age of 33. He attended Southwestern Assembly of God College in Waxahachie, Texas and was ordained to preach. He served as a pastor to churches in Winters, Texas, Tipton, Oklahoma, Sapulpa, Oklahoma, Prue, Oklahoma. Weleetka, Oklahoma and retired from pastoring at Rifle, Colorado. Following his retirement, he continued to minister as an interim pastor to numerous churches and conducted many revival services.
He attended Bethel Assembly of God and was a member of the Heartland Conference with the International Pentecostal Church.
Richard is survived by his daughter and son-in-law, Gigi and Kevin Upshaw; his son and daughter-in-law, Vaughn and René Nelson; his daughter-in-law, Debbie Nelson; six grandchildren and their spouses, Jared Upshaw, Tiffany and Tony Ganus, Brian and Rachel Nelson, Sean and Kaf Nelson, Kyle Nelson and Eric Nelson; six great grandchildren, Jaiyden, Anastasia, London, Elora, Blaine, Elliana; three siblings, Carol Nelson, Sharon Dorris and Paul Nelson; and a great aunt, Wilma Jane Clark.
His wife, a son, Dwayne Nelson, and a grandson, Bradley Upshaw, preceded him in death.
More information at Becker-Rabon Funeral Home