Theo Mayo Homegoing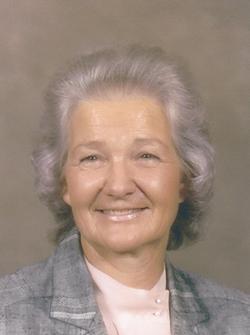 Theo Mayo, age 92 of Midwest City, passed away Thursday, November 09, 2017, at the Saint Anthony Hospital in Shawnee. Theo Paula Cavnar was born June 20, 1925 in Purcell, OK, the 4th of 10 children born to James Thomas Cavnar and Nora (Skaggs) Cavnar. She was raised in Purcell and attended Purcell schools. She married her life partner and best friend, David Jewel Mayo, on November 5, 1943 in Oakland, CA. They made their home in Oakland for nearly 10 years, later settling in Midwest City, where together they raised 6 children, daughters, Eloise and Diantha and sons, Dennis, Terry, David and Daniel. Theo worked tirelessly as a homemaker and Pastor's wife, caring and providing for her family, and sharing the love of Christ in her daily life. Theo, side by side with David, helped build churches in Oklahoma and Colorado. She was a remarkable woman, strong in her faith, and she lived each day in service to others. Theo loved music and singing, and will be remembered for her great sense of humor, a family trait she has passed on to her children and grandchildren. This past Sunday, Theo and David celebrated their 74th wedding anniversary. She was a loving wife and mother, grandmother, sister, aunt and a true friend. She will be dearly missed!

She was preceded in death by:
Her parents, James and Nora Cavnar;
Sisters, Wanda Barnes and Juanita Woods;
Brothers, James, Leo, Edgar, Elmo and Willis Gene Cavnar.

Theo leaves behind:
Her loving and faithful husband, David Mayo;
Sons, Dennis Mayo and wife Lois of Wilburton,
Terry Mayo and wife Rhonda of Chickasha,
David L. Mayo of Mesa, AZ and
Daniel Mayo of Purcell;
Daughters, Eloise Fields and husband Marvin of Meeker and
Diantha Michalski of OKC;
Sisters, Shirley Teal of Ada and
Frances Bragg of Tahlequah;
19 grandchildren; 36 great grandchildren; 5 great great grandchildren; several nieces and nephews and a host of other family and friends.

Funeral Services are scheduled for 11:00 A.M. Monday, November 13, 2017, at the Wilson-Little Funeral Home Chapel in Purcell. Burial will follow at the Hillside Cemetery in Purcell.