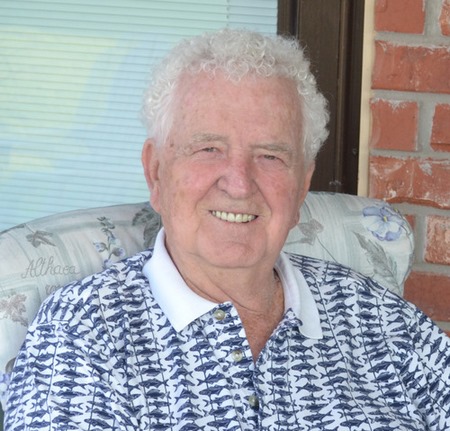 Rev. Dorrance Manning, pastor of Linn Avenue PH, passed away June 24, 2017, one day short of his eighty-ninth birthday. We celebrate his life and ministry and rejoice in his entrance to heaven. At the same time, we pray that God will comfort his friends and family member. Pastor Dorrance had a long and remarkable ministry in the IPHC and especially the Heartland Conference. He pastored until his death!
Memorial service:
Friday, June 30 at 1 pm
Linn Ave Pentecostal Holiness Church
2632 SW 39th Street, Oklahoma City, OK 73119
Early Years
Dorrance M Manning was born to Tom Virgle Manning and Opal Vera Lee on June 25th, 1928. He was their third born child and second born son.
Tom was known as TV Manning by most who knew him. He and Opal were both ministers in the Pentecostal Holiness Denomination. They both pastored churches although many years TV traveled as an evangelist leaving Opal to pastor the church. They pastored churches in Texas including Texline, McLean, Borger, Dumas and Lefors. They pastored churches in Oklahoma including Boise City, Keys, Woodward, and Oklahoma City. They pastored churches in Kansas, including Wichita, Coffeeville, Liberal, and Larned.
Being the child of ministers, Dorrance experienced many moves as a child and young person. Dorrance considered Boise City his home town since he lived there three years and graduated high school there in 1945.
Teen Years
Dorrance was popular in high school and played football and basketball. Since playing ball was considered a "sin" by his parents, they never watched him play. Dorrance was extraordinarily dramatic and had an aptitude for the theater. He was the star of the several high school plays.
During his junior year he had a salvation experience and felt the love of God deeply. However, during the summer he and his buddies were talking about their plans for the up-coming year at school. As each shared, Dorrance thought about how he loved to play basketball and was planning to do that at school. He felt convicted since his parents believed playing ball was a sin. He decided he would have to quit being a Christian to be able to play ball.
As a teenager, Dorrance became enamored with the movies. In those days, the PH Denomination considered movie going a "sin" but at that time, Dorrance was not into the PH religion. He decided he wanted to be a cowboy movie star and devised a plan to that end. He owned a horse and planned to ride it to Hollywood, California. He figured the publicity would launch his career.
Unfortunately, Dorrance's horse died the spring of his Senior Year. Undaunted, he decided to hitchhike to Hollywood. He told his mom he had a job farming out of town and would not be back for a month or so and thumbed rides to Tucumcari, New Mexico and then took a train.
In California, he worked as a bus boy at the famous Knickerbocker Hotel. He was introduced to a well-known Hollywood entertainer and they had a jam session together. The entertainer was impressed with Dorrance's singing and guitar playing. At the end of the session he bragged on Dorrance's talent and gave him this advice: Enroll in one of California's free Junior Colleges and get some education and while attending school join a band and further develop his musical talent.
Dorrance decided to follow the advice but was homesick. He decided he could follow the advice in Oklahoma. He went back home and that fall enrolled at Panhandle State College in Goodwill, Oklahoma where he also joined a band.
The first practice of the band was in a beer tavern in Guymon. As he was practicing, Dorrance began to think of the local Guymon Church in which his Dad TV had held revival meetings. He thought about one of his friend's dad J.M Lemmon who had built the church building. The feelings and conviction were too strong and that was Dorrance's last band practice.
At Panhandle State, Dorrance worked for the college to earn his tuition and board. He had no extra money to buy snacks or date and he had no car. Towards the end of the school year he managed to get enough money to have one date with a girl he liked. As summer approached he informed his buddies that he would work during the summer and come back in the fall with a car and money to date.
Army Service
Unfortunately, by summer's end there was no money left. Dorrance had loaned most of his money to someone who had not repaid the loan. Dorrance did not want to face his buddies at school with no money or car, so he joined the army August 22, 1946 and served most of his enlistment in the occupation forces in Japan.
Dorrance had been sweet on Evelyn Lemmon for several years. Before leaving for the service, Dorrance had a date with Evelyn and they agreed to write each other while he was gone. Dorrance wrote faithfully but received only a letter or two from Evelyn. Later he found out the lack of letters was because Evelyn had no money for stamps. He later said, if he had known he would certainly have rectified that problem.
Dorrance received an honorable discharge from the army on December 9, 1947. Shortly after discharge, Dorrance was playing the guitar at a service where his father, TV was preaching. When TV gave the altar call, no one came forward. TV continued to say there was someone who needed to come forward. Suddenly he turned and saw Dorrance and asked, "Are you the one?" Dorrance responded quickly to pray at the altar and recommit his life to God.
College and Marriage
In the spring of 1948 Dorrance began studying for the ministry at Southwestern College, now Southwestern Christian University. At the end of the 1948 school year on May 23, Dorrance and Evelyn were married. He always said. "I chased her till she caught me." He repeated this statement years later after his marriage to Shirley.
Their first couple of married years they lived on the old Oklahoma Conference Campgrounds at Rockwell and NW 10th Street. Several of Dorrance's siblings including Dean, Vannie, and Virginia lived with them from time to time the next year.
In 1950, Darryl was born and then 15 months later, Daniel was born.
After finishing his degree at Southwestern, Dorrance attended Oklahoma City University for a year. During this time, Dorrance and Evelyn served as Youth Ministers at the Bethany Church. His work there was very successful with a large attendance. Some people in the church became dissatisfied with the pastor and tried to recruit Dorrance to help oust him. Evelyn cautioned against participating with that group saying, "You will be a pastor someday and you will reap what you sow on this." Dorrance took Evelyn's advice and subsequently was never ousted from any ministry position he had.
Ordination and Early Pastorates
Dorrance was ordained as a Pentecostal Holiness minister in 1952. He would serve the next 67 years as a minister, pastor, evangelist, and conference bishop in that denomination.
In 1952, Dorrance was working mail delivery for the U.S. Postal Service in Oklahoma City when he and Evelyn accepted the pastorate of a church in Chickasha, which was about 55 miles from his work in downtown Oklahoma City. (No turnpike in those days.) Dorrance would drive back and forth to work every day even though the church only paid him $5 per week. Dana was born in Chickasha in 1953.
In 1954, Dorrance and Evelyn took the pastorate of the Fiftieth Avenue Church a few blocks east of Shields Blvd. in Oklahoma City. The church was meeting in a converted chicken coop but soon Dorrance led the church in undertaking a building project. The church still meets in that building.
It was during the Meeks Chapel pastorate that Dona was born (1956). Some years later, Evelyn was complaining they had named all the kids with names starting with a "D". Dorrance said. "We can start over and name the next four with names starting with an 'E'." That plan was certainly a non-starter.
Later in 1956, Dorrance and Evelyn took the pastorate of the Meeks Chapel church located about 10 miles east of Moore on S.E. 149th Street. During his time at Meeks, Dorrance decided to try selling products with home demonstrations and left his job at the post office. It didn't take long to discover he did not have an aptitude for selling. Fortunately, he was hired back to work for the post office.
In 1958, Dorrance and Evelyn took the Norman First Church pastorate. Dorrance transferred his secular employment to the Norman post office. The church did well and Dorrance attempted to pastor full time for a short period of time. The finances just did not work out. Fortunately, Dorrance got his job back with the post office. During part of this pastorate, Woodrow Stevens served as associate with Dorrance.
In 1963, Dorrance quit his postal service job and leased a termite business from one of his church members who wanted to retire. The business flourished and in only a short period of time Dorrance and Evelyn payed off all their debt and purchased their first new automobile; a 1964 Pontiac station wagon.
Revival Ministries and More Pastorates
In the summer of 1964, Dorrance felt called to revival ministry and resigned the Norman church. However, before the revivals started, the Enid First Church called with interest in calling him as pastor. This pastorate only lasted a year and Dorrance chose to follow his dream of evangelism ministry.
Dorrance traveled in revival ministry in parts of 1965 and 1966 while Evelyn worked for her father, J.M. Lemmon, in the Carmen Nursing Home. With four growing kids in the home, the finances were a real struggle. During this time, the Norman First Church had split and wanted Dorrance and Evelyn to return as pastor again which they did for two years. During this term in Norman, Dorrance attended Oklahoma University and Evelyn attended nursing school.
In 1968, Dorrance once again went on the evangelistic field and Evelyn worked at the Carmen Home again.
In 1969, Dorrance and Evelyn accepted a call to pastor at Fox, Oklahoma, west of Ardmore about 35 miles. This pastorate lasted only one year and again Dorrance felt called to revival ministry.
During the summer of 1970, Darryl and Dana were married. Daniel attended Southwestern and was married the next summer in 1971.
From 1970 - 1973 Dorrance, Evelyn, and Dona traveled in evangelism ministries. Dona was homeschooled by Evelyn as they traveled in a travel trailer from town to town.
The Manning's were in great demand as revivalists. Their schedule was filled up to two and one-half years in advance. Dorrance focused on preaching to the unsaved on Sundays and on being filled with the baptism of the Holy Spirit most other nights of the meetings. Hundreds and hundreds of people were converted and filled with the Spirit.
In 1973, Dorrance and Evelyn accepted the pastorate of the Ada First Church. This pastorate seemed to be their most successful. The church grew to over three-hundred and built a gymnasium. Also, during this time Dorrance was elected to the East Oklahoma Conference Board.
Dona, the last of Dorrance and Evelyn's children was married in 1975 during the Ada pastorate.
Conference Superintendent
In 1976, Rev. Leon Stewart, the International Director of Evangelism invited Dorrance to become Superintendent of the Arizona Conference. Dorrance said he would pray about the invitation and Rev. Stewart said, "I already prayed and you are the man."
Dorrance and Evelyn moved to Arizona and became the Superintendent of the conference. They served from 1976-1979. In 1979, Darryl was experiencing some church problems in this ministry at the Del City Church so Dorrance and Evelyn resigned their position as Superintendent to move back and assist Darryl in his pastorate.
In 1980, Dorrance and Evelyn accepted the pastorate of the Ardmore Church. This pastorate ended a year later when Dorrance was invited to be Superintendent of the Arizona Conference again. He and Evelyn served as superintendent till 1992. During this term as the Arizona Superintendent, Dorrance served on the General Executive Board, the highest level of rule in the denomination. He also was the main speaker at camp meetings and youth camps for several other conferences.
Linn Avenue Pentecostal Holiness Church
In 1992, Dorrance and Evelyn returned to Oklahoma and accepted the pastorate at Linn Avenue. In September of 1996, Evelyn experienced a severe illness that ended her life. Evelyn was a wonderful helper to Dorrance throughout their ministry. She had a beautiful alto voice and they sang together in duets, trios, and quartets throughout their ministry. Evelyn was also a gifted children's minister and served in that capacity at most of their pastorates.
Shirley
In July of 1998, Dorrance and Shirley were married. Shirley had been treasurer at Linn Ave. and her husband had passed away the previous year. It really was a wonderful blessing for both Dorrance and Shirley to find each other and share their lives together for the next 18 plus years as pastors of Linn Avenue. Shirley has been a great help in their ministry. She has not only served as church treasurer but also as Children's Ministry Leader, and the million-other non-paid duties of a pastor's wife.
The Linn Avenue pastorate was by far the longest tenure of ministry for Dorrance. He loved the people of Linn Avenue and was heard to say they were his best congregation.
The past two plus years have been a tough time for Dorrance, Shirley, and the families. Dorrance was diagnosed with a pancreatic mass pressing on a bile duct. Dorrance did not want the complicated surgery or the possibility of chemotherapy or radiation. The other choice was a stint in the bile duct to try to keep it open. The stint was replaced three times and gave Dorrance and the families two plus years to enjoy life together.
NOTE: See Additional Chapter Below from Shirley's Family
Family
Dorrance was preceded in death by his parents Tom and Opal; by siblings Manaun, Dean, Daniel, Vanie, Rannie, and Virgle.
Dorrance is survived by his wife Shirley of the home; sister, Virginia Plasterer and husband Don of the state of Washington; sister, Mari Manning of Edmond; son, Darryl Manning and wife Regenia of Oklahoma City; son, Daniel Manning and wife Paula of Hinton, Oklahoma; daughter Dana Manning of Sherman, Texas; daughter, Dona Mason of Tarpon Springs, Florida. By grandchildren, Galen Manning, Brent Manning and wife Suzane, Nesta Manning and husband Adrian, Nathan Manning and wife Sarah, Carrie Harris and husband Guy, Tommy Manning, Cliff Hayes and his wife Amanda, Ara Flores and her husband Justin, Don Hayes, Erin Morales and husband Josh, and Judah Mason; and he is also survived by 17 great grandchildren.
Dorrance is also survived by those who loved him in Shirley's family: daughter Shelia Frazier and husband Bryant of Moore, Ok.; son, Mike Rowden and wife Deonna of Oklahoma City; grandchildren Dalton Frazier, Mandie Rowden, Blake Rowden, and Adriana Rowden.