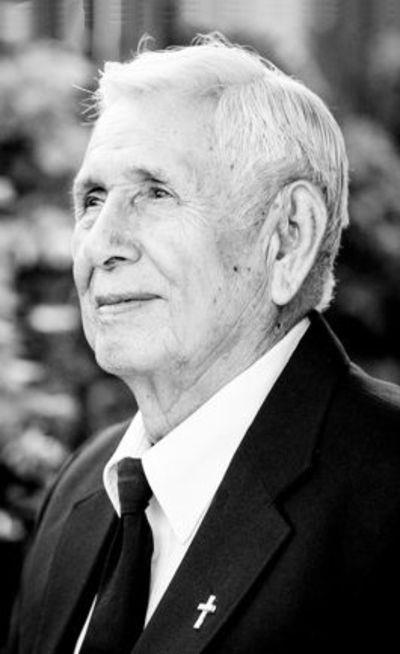 Rev. Nathaniel Thomas went home to be with the Lord on December 15, 2019. Bro. Thomas lived a long and fruitful life as a husband, father, veteran, noted Native American, pastor, and faithful minister. He was a longtime ordained minister in the Heartland Conference.
Visitation will be Friday, December 20, 2019, 11:00 AM - 8:00 PM and Saturday, December 21, 2019, 8:00 AM - 11:00 AM at Eisenhour Funeral Home, 2500 N. Council Avenue, Blanchard, Oklahoma 73010.
Funeral service will be Saturday, December 21, 2019, 2:00 PM at Woodland Hills Baptist Church, 313 South Highway 76, Newcastle, Oklahoma 73065.
Obituary
Nathaniel Thomas
August 17, 1926 - December 15, 2019
Nathaniel Thomas, 93, of Blanchard, died Sunday, December 15, 2019, at his home. The son of Armstrong Thomas and Lela Mae (Shinogee) Thomas, he was born August 17, 1926 in Eufaula, Oklahoma.
Nathaniel was a veteran of the U.S. Navy and served during WWII. Nathaniel married LoEva Roberts on October 10, 1947 and she preceded him in death on January 8, 2007. He worked as a teletype technician for the FAA and retired after 33 years of service. He was a member of the VFW, American Legion, and the Chickasaw Nation Warrior Society. Nathaniel served as the chaplain for the Blanchard VFW Post #3608 for over 40 years and the American Legion Post #261 for over 20 years. He also served as a volunteer chaplain for the Norman Veterans Center and the Oklahoma City VA Hospital for 32 years. Nathaniel served for over 71 years in the ministry as a pastor and chaplain and touched a countless number of lives. He will be greatly missed by all who knew him.
In his spare time, he enjoyed watching OU Football and the Oklahoma City Thunder. His greatest enjoyment was attending his grandchildren's school and sporting events and spending time with his family.
He was preceded in death by his parents; his wife, LoEva Thomas; and his son, Samuel Thomas.
Nathaniel his survived by three daughters, Linda Morton, Naomi Cannon, and Barbie Thomas, all of Blanchard; fourteen grandchildren; numerous great grandchildren and great-great grandchildren; and many other loved ones and friends.
Funeral service will be held at 2:00 PM, Saturday, December 21, 2019, at Woodland Hills Baptist Church in Newcastle. Burial will follow in the Blanchard Cemetery. Memorial donations may be made in Nathaniel's name to the Veterans' charity of your choice. Arrangements are under the direction of Eisenhour Funeral Home of Blanchard. Online obituary and guestbook are available at www.eisenhourfh.com.